You've got questions and we've got answers (probably).
Data Visualization Academy
How do I get started?
If you need a quick orientation to how the Academy is set up, watch this 7 minute video.
If you are fairly new to data visualization, go to the Start Here button in the Excel, Tableau, or R pages and watch the video. Then start looking at your own data and see if you can take it through the process we detail in the Start Here video. You'll likely identify one or two chart types that will work best for your data. Head straight to those tutorials, practice with our data, then try it on your own data. Don't forget to check the listed Rockstar level of the tutorial. You might want to start with those that are 5 and under. Then make your way through other tutorials in The Fundamentals section and then work through the other sections. And Beyond is the most complicated stuff.
If you have been following Stephanie Evergreen's work closely and trying out the chart types on her blog or in her books, you should still start with the tutorial, Start Here because it'll introduce you to a fundamental process. Then tackle some of the more complex visuals, especially the stuff in the And Beyond section.
If you are somewhere in between, watch Start Here. Then watch the Efficiency Tricks tutorial. From there, dive right in to the chart types that can help speak to the data you are wrestling with at your office.
What if I have a question?
That's what we are here for! Check first in the comments thread at the bottom of every tutorial, because we may have already answered it there. You can also post a question to the Academy Facebook or Slack groups. Or shoot us an email at uhoh@academy.stephanieevergreen.com whenever you have a question.
What if my question is about my own data?
We love those questions! We are here to help you be the data viz rockstar of your office. Send questions any time. We will ask if those questions and our answers can be shown at Office Hours. You can say no and keep things private if you want. We learn a lot from each other's data viz problems in here, so if you are ok with sharing with the rest of the Academy, just keep in mind that you may want to anonymize your data.
Can I attend Office Hours even if I didn't submit a question?
Heck yes! You'll learn a lot about the nitty gritty of making awesome visuals. Please join us. We usually have 4-7 questions about about 40 people who attend.
I'm having trouble dedicating the time to going through each tutorial.
It can be hard to make the time to invest in your own growth. Why do we put our own development at the bottom of the to do list? I sure don't know the answer but we do have Accountability Buddies, a program where we will pair you with someone else and you can check in on each other, make study dates, and keep each other on track. If you need more expert coaching, look into the Graph Guide program.
How long will I have access to the tutorials?
Your membership renews automatically each year and as long as you are current, you have access. If you decide not to renew your membership, you'll no longer have access to the Academy.
How do I stop autorenewing payments?
Head to My Account > Subscriptions. Locate your subscription and click Stop Auto Renew. You will continue to have access to the Academy content until your membership expires.
When does my membership renew?
One year from when you signed up. You'll see your exact date in My Account. We will send you several emails ahead of time to tell you that renewal is about to happen.
Can I share my membership with others?
Memberships are individual. We do offer discounts of multiple people from your organization want to join. You can transfer your membership to someone else pretty easily, but just changing your username and related email. Send us a heads up at uhoh@academy.stephanieevergreen.com so we don't worry about you.
How can I show off my Academy pride?
Snag this badge (right-click on it and click Save as Picture) and post it on your website or your social media or anywhere you want to brag about your rockstar skills.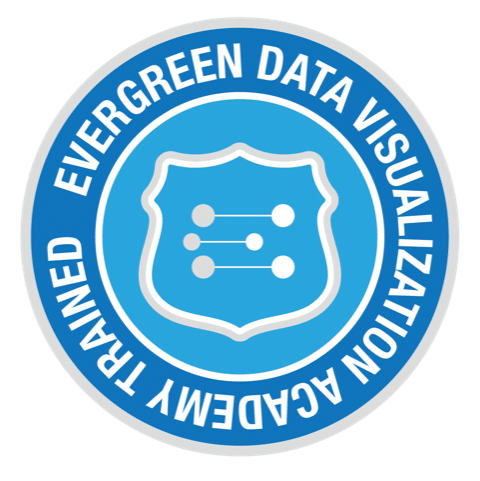 More ways to brag, please.
You bet! Grab your own Data Visualization Academy certificate, show it off in your annual employment review meeting, and get a raise.